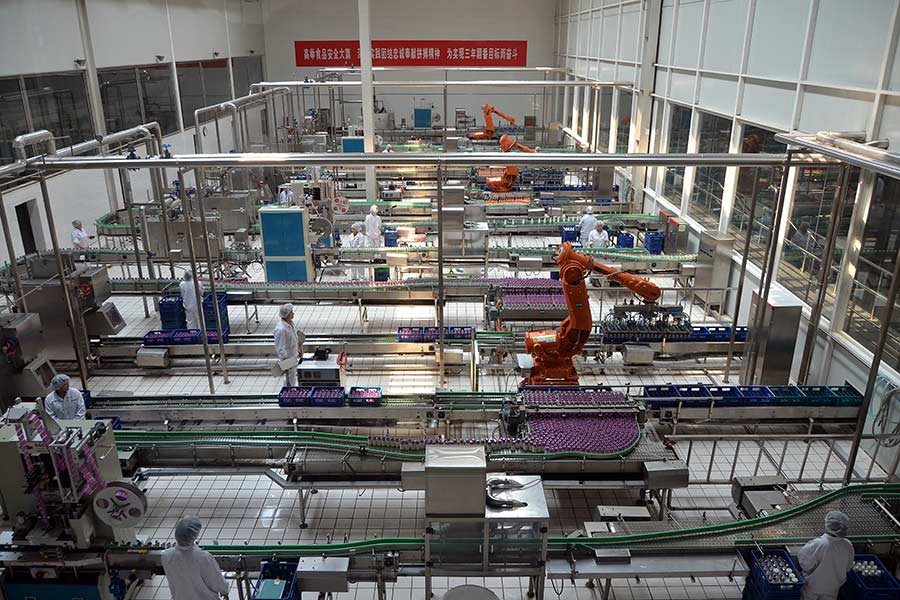 Employees of Beijing Sanyuan Food Co Ltd, a leading dairy company in China, work at a production facility in Beijing.

China's dairy output has grown rapidly over the years, boosted by advanced livestock farming and large-scale milking techniques, with sharp growth seen in both dairy processing and consumer products, industry leaders said.
At the latest China Dairy Exhibition held in Tianjin between July 9 and 14, Li Defa, head of the China Dairy Association, said cow farming productivity in the country has grown to 30.1 million metric tons last year, with large-scale farms comprising the majority of the farm operation models.
"Mechanical milking at large-scale farms in China has significantly improved the quality and safety of raw milk," Li said.
China has become the largest importer and exporter of dairy products, cows and pasture grass. Total exports and imports hit almost $11 billion in 2018. Exports reached $360 million and imports stood at $10.6 billion.
Li said about 61.4 percent of farms have more than 100 cows, which is up 40 percentage points from the level in 2008.
Processed dairy products have also seen visible progress in quality and production capacity.
In 2018, nationwide dairy products reached 26.8 million metric tons and the number of dairy producers totaled 587. Revenue of medium and large-scale dairy farms or companies reached 339.8 billion yuan ($49.4 billion).
Since 2000, consolidation has accelerated the development of the domestic dairy manufacturing industry.
In 2018, medium-and-large-sized dairy processing enterprises accounted for 79 percent of nation's dairy companies. More than six dairy firms have revenues of over 10 billion yuan, which is more than 57 percent of the revenues from the dairy manufacturing business. The top three domestic dairy companies have about 49.8 percent of the total dairy industry revenue in China.
By the end of 2018, 17 Chinese dairy companies have invested overseas.
During the exhibition, the Sino-Dutch Dairy Development Center had a signing ceremony for cooperation agreements with two leading dairy firms in China. The center was founded in 2013 by China Agricultural University, Wageningen University& Research, and Royal FrieslandCampina N.V, a Dutch multinational dairy cooperative.
The center aims to raise the production safety and quality of the Chinese dairy industry through knowledge sharing, building a trustworthy third party platform, and strengthening its international consulting team.
Sun Zhihai, general manager of Yunnan Niuniu Husbandry Co Ltd, said the company decided to join the Sino-Dutch Dairy Development Center to help contribute to the "farm-to-dining table" safety control system in the dairy industry in China.
Yunnan Niuniu Husbandry is the single largest farm and has the highest-degree of automation and the most efficient producer of milk in southwestern China.
Another participant at the signing ceremony was Beijing Sanyuan Food Co Ltd, a leading dairy producer in northern China. So far there are 10 member companies cooperating with the center.
Li Shengli, director of the Sino-Dutch Dairy Development Center, said China's dairy industry has seen challenges stemming from insufficient production capacity and shortfalls in efficiency.
It is vital for the players in the domestic dairy industry to learn from advanced experience at home and abroad to raise industry management efficiency and productivity, pushing the scale of development in farms and diversity in dairy products, he said.
Large-scale farming has brought along food and nutrition improvements but has also resulted in environmental issues, said Li.
(From China Daily)